Written by Fred
When Amanda suggested growing potatoes and selling them, in a potato club, I had no idea we would have such a successful crop. Potatoes are an amazing gift from nature to us, bred over the millennia in the Andes by south American peoples, and then here. Packed with energy and goodness, a crop which stores well for many months.  Each tuber as you dig it out is a different quirky shape, sometimes deformed by growing round a lump in the soil or a root.
Setanta growing.
Three of the varieties we are growing are red. They glow at you from within the soil, before you retrieve them. We planted them quite deep, in 10 inch trenches and that turned out to give them a good amount of moisture in the dry, hot July weather. It means they are slightly harder to harvest, having to dig at depth slowly and carefully along the row. The ground because it has a lot of roots in still is not that easy to dig. It is fresh cultivated ground, left for 20 years. That is why we are doing potatoes in it, as this is good way to dig and use new ground.
.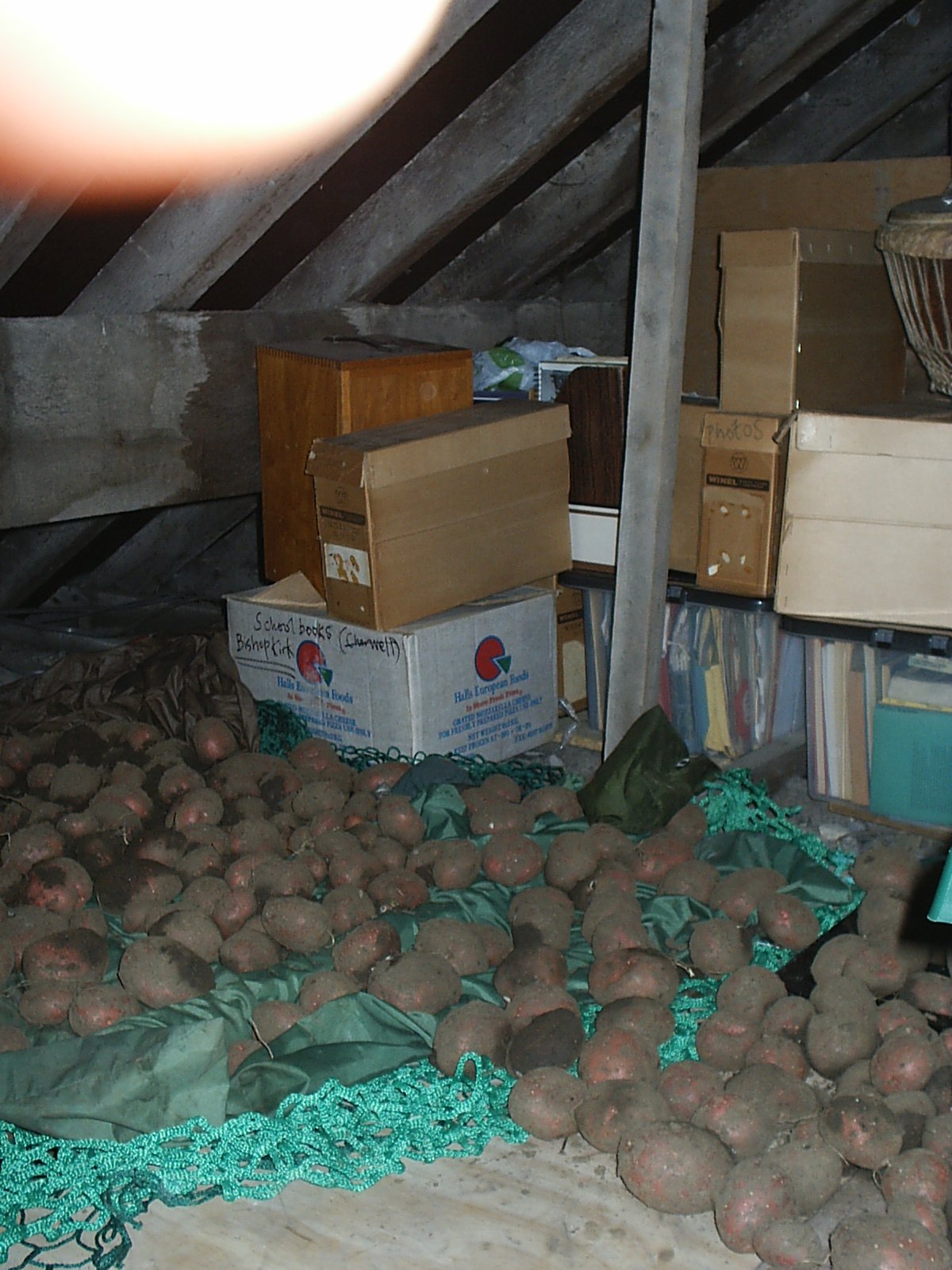 drying in loft
Once harvested, they are laid out in the dark to dry off, then brushed, and examined for damage before putting in bags. There is a bit of loss to invertebrates (keel slugs, millipedes ?) making tunnels in them.  But some of these tunnels seem to seal over inside somewhat, so the potato does not rot, it merely has a hole or two. And still usable. Deep fork -skewering is sometimes inevitable, and the spud cannot be stored, it needs eating quickly before it rots! The good spuds are bagged up.
There was a particularly high yield of Kestrel, and Nadine, giving three sacks each, which is about  half a kilo per seed tuber. This gives a yield of 0.3 Kg per square foot (44 tonnes  per hectare !) I think this probably compares well with commercial mechanised farming. Less good yield of Desiree for some reason. The area was slightly smaller…..When they are all dry and bagged they will be ready to distribute to the customers. We had no blight or other disease. The only damage was from creatures boring into them. Perhaps keel slugs. And rats or another rodent nibbling them.
Nadine – second early. 
Very high yielding modern disease resistant potato, The firm, very waxy flesh has a pleasant mild flavour. Good all round cooking qualities and top exhibition appearance. Resistant: Blight: moderate, scab:high, eelworm: resistant Tuber: skin: white, flesh: cream, short oval
Kestrel – second early.
High yields of large, blue eyed tubers. Its firm flesh and well above average flavour makes it a good all rounder. Very high slug resistance, possibly the best. Resistance: blight: moderate, scab: good, eelworm: low Tuber: skin: white, flesh: white: shape: oval.
Cara – main crop.
High yields of large red eyed tubers, with moist, waxy flesh and mild flavour. Good disease resistance makes this an allotment favourite. Cara is also a versatile potato suitable for a wide variety of uses including chipping. Particularly good baker. Resistance: Blight: high, scab: high, eelworm: resistant Tuber: shape: short oval
Robinta – main crop. 
A main crop ideal for boiling and salad use. Resistance: Blight: good, Scab: good, eelworm: good Tuber: Skin: red, Flesh: cream, Shape: round
Desiree – main crop. 
Without a doubt the most popular red available. Its got it all, high yields of waxy fleshed tubers with an excellent flavour, high drought tolerance and moderate slug resistance. All this makes if the No. 1 choice for allotment growers.
Resistance: Blight: moderate, Scab: moderate, eelworm: low.
Tuber: Skin:red, flesh: light yellow, shape: long oval
Setanta – main crop 
A very high dry matter potato with extremely high resistance to foliage blight, tuber blight, gangrene and dry rot. It keeps very well in storage and its eating quality is excellent. All round culinary use with a floury taste.
Resistance: blight: high, scab moderate, eelworm: low
Tuber: skin:red,flesh: yellow, shape: oval