We've got an exciting range of workshops for our allotment holders at Vale Community Hospital coming up this autumn: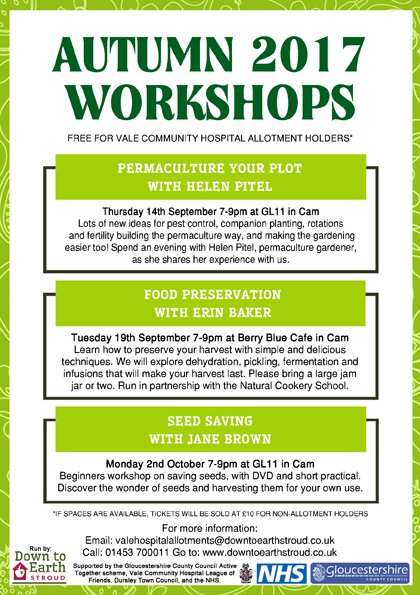 Permaculture Your Plot with Helen Pitel
Thursday 14th September 7-9pm at GL11 in Cam
Lots of new ideas for pest control, companion planting, rotations and fertility building the permaculture way, and making the gardening easier too! Spend an evening with Helen Pitel, permaculture gardener, as she shares her experience with us.
Food Preservation with Erin Baker
Tuesday 19th September 7-9pm at Berry Blue Cafe in Cam
Learn how to preserve your harvest with simple and delicious techniques. We will explore dehydration, pickling, fermentation and infusions that will make your harvest last. Please bring a large jam jar or two. Run in partnership with the Natural Cookery School.
Seed Saving with Jane Brown
Monday 2nd October 7-9pm at GL11 in Cam
Beginners workshop on saving seeds, with DVD and short practical. Discover the wonder of seeds and harvesting them for your own use.
All workshops are free for Vale community hospital allotment holders. If spaces are available, tickets will be sold at £10 for non-allotment holders. For more information and to book: Email: valehospitalallotments@downtoearthstroud.co.uk Call: 01453 700011
We are supported by the Gloucestershire County Council Active Together scheme, Vale Community Hospital League of Friends, Dursley Town Council, and the NHS. Huge thanks to them for their continued support.
We've also received these fantastic photos of some of the allotments. We're absolutely blown away with the work from our allotment holders, well done all. We hope you are all very proud of your work and are getting some good crops already. Please do send us your photos!